Products
English Language Lab
Introduction:
English is a language of opportunities and it plays a vital role in acquiring life skills. Accuracy and fluency in the use of language are very essential.
Technology – aided learning has started playing a significant role in the pursuit of language learning. It enables the students to expedite the process of improving learning skill with more emphasis on LSRW (Learning, Speaking, Reading, and Writing) leading to desirable employability.
The language lab intends to develop the confidence level of students and it would motivate them to use their language skills outside the classroom as well. The technology thus fulfills all the needs of language learners and educators.
If a candidate is going to appear for exam in online format then he must get prepared in a similar environment.
Digital English lab is designed according to the CEFR (Common European Framework of Reference) standards in learning and assessments wherein, it covers all the 3 levels of CEFR namely, Basic (A1, A2), Intermediate (B1, B2) and Mastery (C1, C2).
---
Objectives:
The DIGITAL TEACHER English Language Lab is a worldwide adopted concept used to give students a hands-on learning experience, enabling them to practice and master the language through innovative tools.
To enhance the proficiency of the students in all four primary skills listening, speaking, reading and writing(LSRW) of English through computer aided teaching.
To emphasize the importance of English as a medium of learning academic subjects.
To facilitate the students to shed fear and anxiety while using English and to overcome their mother tongue influence
To equip students with confidence to undergo training programs through round the year practice in small presentations, group discussions, debates and mock interviews.
To enhance spoken skills
To develop interactive approach in learning
To provide every student enough time to practice the components of the language through repeated exposures.
To make them aware of the need to learn better pronunciation through stress on word accent, intonation and rhythm.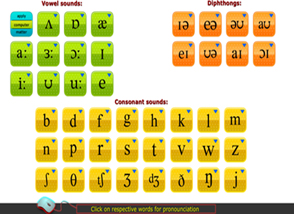 ---
Objectives:
The software is designed in such a manner that it records the student's voice and compares with the expert's voice patterns both via audio and visual.
Main focus on Situational conversations related to real-time environment.
Native speakers' voice used as model to teach.
Students can record their words and compare accents and pronunciations.
Students can repeat the recording several times.
Listening and recording for work and tests can be controlled by teachers.
In addition to this, phonetics which is a language of sounds, help the students in identifying different sounds.
It provides an environment where a student can practice the pronunciation of different words in a shortcut method using the symbols of International Phonetic Alphabet.
Mother tongue removal tool not only eliminates the mother tongue influence, but also helps in speedy learning of the target language.
English lab also provides English grammar with animated pictures and practical exercises.
English Lab contains the components such as Intonations, Word stress and Syllables.
Efficiently tracks time spent by students on various assignments.
---
How the student is assessed?
The assessment of the student is done in three stagesviz

Lesson stage
Practice activities stage
Assignmentsstage

In the first stage,concept explanationusing suitable animations and examples.
In stage two, accurate pronunciation practice usingvoice recorder and graphical representation.

Syllables breakup practice with Visualized Graph.
Practice of phonetic sounds.

In the third stage,enhance the knowledge of the students by giving various assignments.